Digital resources to engage your French students at KS3 and KS4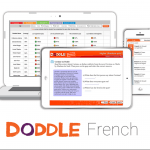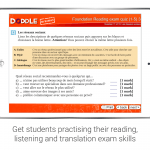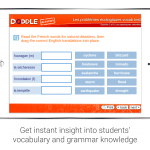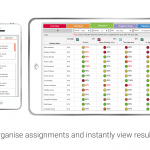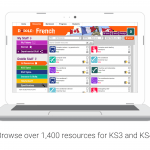 Doddle French helps you to perform regular low-stakes testing with all students throughout KS3 and KS4 and meet the demands of the new specifications with quality exam preparation resources.
With Doddle, you no longer need to spend valuable time creating resources from scratch nor marking repetitive tests, but rather can browse a whole host of curriculum-specific material designed to engage and motivate your students.
Get instant insight into students' vocabulary and grammar knowledge with self-marking quizzes
Ensure students are regularly practising their reading, listening and translation skills with grade-appropriate authentic French texts and translation passages
Support effective exam preparation with tier-differentiated exam-style tests tailored to the new specification
Track homework submissions and access a question-level analysis of your students' quiz results for targeted intervention
Costs

£399 per annum
With a Doddle subscription your department can activate unlimited teacher, parent and student accounts, receive year round support from our Oxford based team and access the latest content as it is added throughout the year!
Three year subscription – £399 per year
One year subscription – £499 per year
Trial Options

7 days
Try Doddle French for yourself! One of our Account Managers will be in touch to set you up, and can also offer you a free online demonstration to give you a quick tour of the platform.
Andy Llewellyn, MFL teacher, tells us how he has used Doddle to introduce topics and reinforce learning
Q

How do students access Doddle?

A

Every student has their own account, and can log in on their phone, tablet or PC using a web browser or the Doddle App.

Q

Can Parents see what their child has been set?

A

Yes! Through the app or web browser, parents can see what work their child has on their to do list, and how they did in their previous assignments.
Sign up for latest updates
BESA is partner to the EDUCATE Programme, an ERDF part-funded EdTech research accelerator providing training + ment… https://t.co/f38KJnVp9W
We're Hiring!

We're expanding our team across marketing, membership, events and finance. Want to join a fantastic… https://t.co/Mf0zhrHoDy