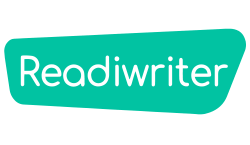 3P Learning – Readiwriter Spelling
3P Learning Ltd
Readiwriter is a digital literacy resource, designed to improve spelling skill and retention
Readiwriter Spelling is the rich spelling and vocabulary program that brings together spelling and communication. Built with educators around the globe, Readiwriter Spelling holds 15,000+ words, pre-built word lists across a wide range of curricula, a live-testing environment, engaging games and comprehensive data and reporting.
Easy differentiation
Find and assign activities that provide a meaningful challenge. Sorted into three levels, Readiwriter's word lists provide a rich, shared class focus while allowing activities to be targeted at the right level for groups or individual students.
Personal word lists for students and teachers
Edit and create your own lists using Readiwriter Spelling's word bank of over 15,000 words, or create your own words to help students further develop their vocabulary
Live testing
Set live tests to assess your students' pre-test and post-test results at the end of a spelling learning sequence, and save time with automated marking and reporting.
Student engagement
Captivate your students with pedagogically driven gamification activities like Look, Say, Cover, Write, Check, Syllable Sushi, Magic Boxes and more.
Data and reporting
Gather insights from student data to understand their strengths, struggles and where they need extra support.
Costs

£4.08 per pupil
Spellodrome pricing is as follows:
10-29 pupils £10.08
30-100 pupils £8.04
101+ pupils £6.00
Whole Schools £4.08
Subscriptions are annual and priced per pupil, with whole-school subscriptions offering the greatest value.
Multi-year and multi-product subscriptions are also available for additional savings. We also offer discounts for school clusters. Contact us directly for
more details.
All prices above are shown exclusive of VAT.
Trial Options

1 month
We offer every school a free 30-day trial of Spellodrome. Our friendly team is eager to learn about your objectives and show you a number of possible strategies using Readiwriter to achieve them.  You will receive full access to the program during the trial period.
Sign up for latest updates
What do education sector journalists want? Hear why you should attend the upcoming webinar with Education PR… https://t.co/NKdEO8Y5Uf
Join Ofsted HMI Inspector Sandra Hayes for an update on the Ofsted inspection framework. She will be breaking down… https://t.co/EFR0xLLm7I