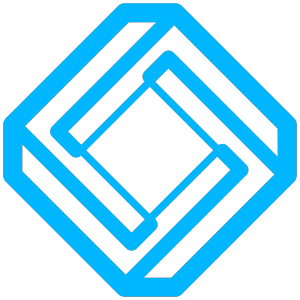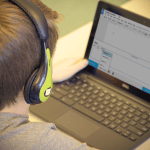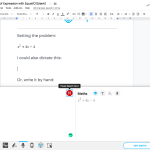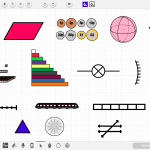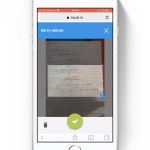 While education technology is rapidly transforming teaching and learning, it sometimes seems that maths has been left behind in the rush. When it comes to maths as a subject, we're dealing with a whole different language, with the whiteboard – plus good old pen and paper – remaining default choices for teachers and pupils to scribble formulae, graphs and other maths expressions.
EquatIO®, from Texthelp, offers a huge leap forward in digitising maths, allowing diverse learners to engage with content in ways that are easier and in a way that suits them best – whether it's a simple screen reader function or more flexible, comfortable ways to input and manipulate expressions.
EquatIO allows students and teaching staff to create equations, formulas, graphs and more directly on their digital device. Input's easy: type, hand-write, or dictate any expression, with no tricky coding or math languages to master, then simply add maths to Microsoft Word documents or Google Docs with a click. There's also a huge library of ready-made expressions to save time, from simple formulas to complex functions.
Activities created using EquatIO Mathspace can be used for collaborative group work, which allows for student interaction, creating a friendly atmosphere where students will enjoy learning.
What's more, EquatIO integrates seamlessly with Texthelp's Read&Write toolbar and accommodates a wide range of personal learning styles. Its graphing feature is compliant with the latest accessibility standards, letting students with visual impairments hear maths read aloud on their device. Students with low motor functions can use EquatIO's speech input to take accurate notes without the need for a scribe. And its clever maths, chemistry & formula prediction can support students with learning disabilities – like dyslexia or dyscalculia – who may find it difficult to remember or understand particular symbols, functions or other maths concepts.
Costs

£1.00 per pupil
The price shown is the average price per student, per year, based on a secondary school with an enrollment of 1200 pupils. Annual site licence pricing is based on total school enrolment and the sector. It includes usage for all students on all platforms including Windows, Mac, Chrome and tablets including Android and iPad. Exact final pricing can be quoted bespoke to each institution.
Trial Options

30 days
EquatIO is offered on a standard 30-day fully featured trial. Schools can also avail of a structured pilot programme for terms up to 90 days. Focused on pupil and teacher outcomes, Texthelp assist the school in gathering results of the process and provides a wealth of technical and pedagogical support.
Sign up for latest updates