Sumdog Maths
Personalised maths practice and low-stakes assessments that pupils love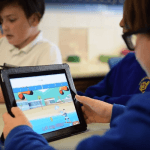 Sumdog is an online practice tool which uses game-based learning to build maths fluency. A recent study found that using Sumdog for 30 minutes a week almost doubled children's fluency progress. It encourages regular practice, high accuracy and quick mental maths, using positive reinforcement to ensure pupils stay on task, learn more effectively, and are invested in their own success.
It is free to join, with optional subscriptions unlocking additional functionality and extra games. Free accounts give access to 6 of the most popular learning games and a new diagnostic tool that helps to identify areas for catch up this term. After completing the diagnostic, the adaptive learning engine works to ensure pupils are working at appropriate level, progressing them through the national curriculum for KS1-3.
Identify areas for catch up this term
The new maths diagnostic tool gives you a snapshot of children's learning but in a stress-free environment.  It not only provides you with an easy-to-read, stranded report, aligned to your curriculum, but it also sets the questions for each child on Sumdog, ensuring pupils are answering personalised questions tailored to their needs to keep them motivated and ready to learn.
Prepare for the MTC with Sumdog Tables
Encourage your pupils to build their tables fluency through a mixture of child-directed play, tables challenges and an Multiplication Times Table Check practice test.
Incorporate Sumdog into your teaching today
Built on continued educational research, and in partnership with teachers, Sumdog is loved by millions of children across the UK, motivating and building confidence, while helping teachers to deliver mastery learning.
Take the pressure out of assessment
Our new Assessment Library now features over 60 assessments mapped to the ready-to-progress criteria for KS1/2. We've also added 18 Age Related Expectation assessments including Probability, Statistics, Ratio, Proportion and Change, and Geometry for Years 7, 8 and 9 and 4 assessments mapped to the NCETM Checkpoints
Our new assessment report makes it even easier for you to analyse our auto-marked results.
Practise
Step back as your pupils work independently at the level and pace that is right for them, only moving on to new skills when they are ready, having achieved a rolling accuracy of 80%.
Set work
Reinforce your teaching and assign targeted practice for groups or individuals, either within game play, or as an online assessment. Either way, Sumdog will mark it for you.
Track
View progress, usage and performance reports for each pupil to inform your teaching, making it easy to identify problem areas and set custom benchmarks for your class.
Trial Options

Sumdog is free to sign up
Free Access
6 fun and engaging single and multi-player games
Assessment to place students at their correct individual level
Personalised practice – questions adapt to each individual so pupils can learn at their own pace
Encourage multiplication tables fluency – set work and view reports on accuracy and speed
Skills aligned to the National Curriculum
Interested in a free trial? Book a walkthrough with our team.
Director of Academy Effectiveness, Jo Quince, talks about how Sumdog has become an integral part of their maths practice.
Sumdog has helped to identify gaps, improve arithmetic skills and encourage home-learning at Shinewater Primary School
Sumdog has helped to identify gaps, improve arithmetic skills and encourage home-learning at Shinewater Primary School
Sign up for latest updates
Teachers and educators, want to learn how to use EdTech to encourage collaboration and creativity in the classroom?… https://t.co/62PqiwF8Jy