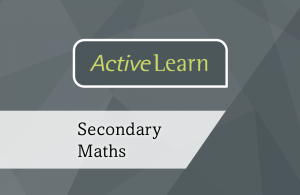 ActiveLearn Secondary Maths – KS3, KS4 and KS5
Pearson
Integrated, digital planning, teaching, assessment and student resources.
ActiveLearn brings together your planning, teaching and assessment across one online service.  It saves you valuable time and provides you with everything you need to teach and measure the progress of your students.  Use our interactive scheme of work, linked to a wealth of teaching and student resources, to create a personalised teaching and independent learning experience both in and outside the classroom. Use our progress assessments with online markbooks to  measure progress at key points throughout 11-16. 
Our ActiveLearn Digital Service has been developed alongside our Student Books to give one coherent approach. It also comes with full customer support throughout the subscription to ensure you and your students get the most out of the course.
What can you expect from ActiveLearn?
Time-saving and engaging front-of-class resources

An easier way for learners to track their progress and get instant feedback on their work with online homework, practice and support.

Easy-to-use teacher planning materials including lesson plans which can be edited and customised to your needs and our Interactive schemes of work.

Progress assessments, online markbooks and reporting tool.

Assessment builder (an add-on to your subscription available Spring 2019) allows you to build your own assessments from our bank of assessment questions.
There are tens of thousands of teachers and their learners, just like you, logging into ActiveLearn every day. Over 80% of UK schools use time saving tools and innovative content to help them plan, teach, track and assess, all in one place.
"ActiveLearn is an incredibly well thought out online innovation that  is rich in content, support and learning … a learner-centric dynamo ."  Teach Secondary
Costs

£200 per annum
ActiveLearn is available separately for KS3, Edexcel GCSE (9-1) Maths and A level Maths. You can also buy bundles of 2 or more key stages with a 15% discount. Subscriptions are priced on sizes appropriate for the school: small, medium, large and extra large. We can advise you on the size your school needs based on number of students. Assessment builder is available as an add-on for £150 per key stage, again with a 15% discount when you buy 2 or more key stages.
Prices from £200 for an extra-small annual subscription. Subscriptions are based on number of pupils/size of school.
Trial Options

1 month
Free 30 day trial of Activelearn for KS3 or KS4. You will be set up with an account and given help to get you started using the products.
Integrated planning, teaching, student and assessment resources
Sign up for latest updates
This is an appeal for help. A request has reached us from a school in Romania who are supporting displaced… https://t.co/h7aR08Wryj