Discovery Education Espresso
Discovery Education Espresso brings learning to life with with engaging digital resources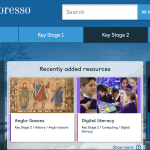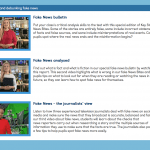 Discovery Education Espresso is a curriculum-centered online resource that helps make teaching easier. Made by teachers, for teachers, Espresso's easy-to-use, knowledge-rich classroom resources are aligned to the curriculum, deliver high-quality education and bring learning to life for thousands of learners from Early Years to Key Stage 2. With over 23,000 planning resources and classroom activities including teacher support, instructional-based strategies, daily news stories, immersive experiences, videos, worksheets and games, Discovery Education Espresso takes primary teaching to the next level.
Deliver on the new Ofsted Curriculum requirements: Espresso's rich, all-in-one learning service offers a wide range of subjects mapped to the curriculum, ensuring that your school will deliver high quality education and appropriate coverage with thoughtfully structured content to meet the requirements of the new 2019 Ofsted Inspection Framework.
Reduce planning time: Espresso offers instant access to a wealth of essential classroom resources aligned to the curriculum that can be used every day. The service includes teacher support, videos, worksheets, games and quizzes all easily searchable by subject or objective. Espresso reduces lesson planning time and can be used to prepare at school or at home, restoring teacher work-life balance and freeing up your time to focus on what you need to.
Be confident in teaching new curriculum area: Build confidence in areas you may not have taught before and take the stress away with Espresso's detailed and flexible teacher guidance or curriculum resources such as British Values or Online Safety. All resources are created by experienced teachers so quality is assured.
Prepare pupils for independent learning: Help students to embrace to power of self-guided learning using our knowledge-rich Video zone, featuring exclusive clips from Discovery Channel, to enable students to foster independent learning techniques and develop critical thinking skills.
Safeguard your online teaching: Provide a safe and fun environment for learners to explore new topics with Espresso's teacher-created, age-appropriate online resources without the worry of what they might encounter using unvetted online platforms.
Support every learner in the classroom: Whether you have children struggling with maths or need to improve their reading, Espresso can be used for whole class teaching or individually on laptops and tablets, providing activities that can be easily tailored to match every child's best learning approach.
This Autumn Discovery Education are releasing a brand-new platform, Discovery Education Experience. Bringing a fresh new look, personalisation, creation and assessment tools, Discovery Education Experience brings high-quality digital content and professional learning resource in a unique creation and collaboration space with everything you need to create an enriching and engaging learning environment. All Espresso subscribers will receive access to the Discovery Education Experience platform as part of their subscription.
Pupil and Teacher Home Access is available as part of a Discovery Education Espresso Subscription. If existing Espresso subscribers do not have this activated, please contact Discovery Education. Should your school not subscribe to Discovery Education Espresso please contact them to discuss how they can support your schools during a period of extended closure. Full access to the Discovery Education Espresso service will be provided, and no payment details will be required. Access will be through a username and password and will be provided for the duration of the school's closure or disruption.
Costs

£7.65 per pupil
Pricing is tailored according to school size and length of commitment.
Discovery Education Espresso is also available through the HP for Education trade-in programme. Contact Discovery Education for more information.
Trial Options

14 days
Longer trials may be arranged on request. We can also provide an online walkthrough of the Discovery Education Espresso service to help you fully explore everything Espresso has to offer.
Bromley High Junior School use a range of tools, including Discovery Education Espresso, to support teaching and learning during the COVID-19 pandemic
Teacher Sophia Atherton explains how the platform strengthens links between school and home and takes learning beyond the classroom.
CEO and Executive Headteacher Jonathan Bishop explains how Espresso supports their teaching and deepens pupil learning.
Hayley McKechnie, Year 6 teacher and Computing Lead at Lee Chapel Primary School in Basildon, Essex, has taught with Discovery Education Espresso News
Higher standards in literacy are at the heart of the National Curriculum. But encouraging a love of reading in the digital age can be a challenge.
Riverview Infants School in Gravesend Kent uses Discovery Education Espresso to engage and inspire younger learners.
At St Martin de Porres teachers pride themselves on creating an environment where every child can flourish and achieve success.
Easy to access and simple to use, many schools are turning to Augmented Reality as part of a broad and balanced curriculum.
Sign up for latest updates
RT APPG on Education Technology @edtechappg: What worked during lockdown?

Please let us know which remote learning technologies and practices proved effective… https://t.co/vDUuVFBGS2