Discovery Education Espresso
A whole new experience for teaching and learning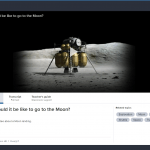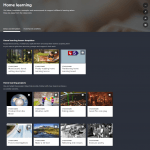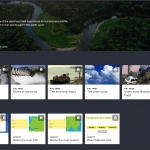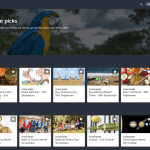 Open doorways to a whole new experience for teaching and learning with exciting real-world content, personalisation tools, a unique creation and collaboration space and instructional strategies built for your needs as an educator. With a fresh new look, Discovery Education Espresso provides everything you need to create an enriching experience for all pupils, wherever the learning is taking place.
Discover powerful learning resources. Espresso's high-quality learning resources are grouped into resource collections called 'channels'. Channels feature curriculum-aligned content such as Phonics, Vikings and Online Safety as well as skills based-materials including Creative writing, Find maths everywhere and Is there anybody out there?
Save time finding resources. With thousands of resources on Espresso, it's important you can quickly find what you're looking for. A visual search function makes it clear what resources are available whether you're looking for a topic or an individual resource. Use the filter to narrow down even further by resource type or key stage.
Personalise your space. With Discovery Education Espresso you can find content, and return to it, much more easily. Channels can be pinned to your homepage helping you to easily access your most frequently used resources or upcoming topics for the term. When browsing you can add individual resources to your 'QuickList' for easy retrieval or save to your 'My content' area which can be organised by class, term or topic.
Create, collaborate and present. Espresso now comes with Studio, a flexible tool for both teachers and pupils. Teachers can create lessons and presentations combining resources from Discovery Education with their own materials. Pupils can create boards to demonstrate their understanding, which teachers are able to view and assess.
Assign resources to pupils. In the Classrooms area you can quickly and easily assign specific resources to individual pupils, groups or your whole class. This makes it easy to personalise the learning experience and helps you keep track of what pupils have done and when a pupil needs extra support or challenge.
Create and assign quizzes. An oft-requested feature, you can now combine Discovery Education Espresso content with self-created multiple-choice quizzes to provide a quick, informal way of checking pupils' knowledge. Quizzes can be assigned to individual pupils or the whole class and as a teacher you receive clear data around pupils' understanding of the topic you're teaching.
Learn new ways to use digital content. Access support every step of the way with a variety of resources highlighting digital content best practice. The 'What works well' section brings together a selection of materials created by educational practitioners to help you get the very best out of the digital resources whether you're teaching in-person or remotely. You'll also find our popular SOS instructional strategies: creative, research-based activities created by teachers to help you incorporate digital media in meaningful, effective and practical ways.
Support blended learning. If pupils are unable to attend school for any reason, you can easily transition to remote learning. With all teachers and pupils having a unique login pupils can continue to access the lessons they have been assigned or search for materials to supplement their learning. Teachers can view the work pupils are submitting and easily see where pupils may need some additional support. Parents can be confident that their children are learning in a safe, secure environment.
Costs

£7.65 per pupil
Pricing is tailored according to school size and length of commitment.
Trial Options

14 days
Longer trials may be arranged on request. We can also provide an online walkthrough of the Discovery Education Espresso service to help you fully explore everything Espresso has to offer.
Bromley High Junior School use a range of tools, including Discovery Education Espresso, to support teaching and learning during the COVID-19 pandemic
Teacher Sophia Atherton explains how the platform strengthens links between school and home and takes learning beyond the classroom.
CEO and Executive Headteacher Jonathan Bishop explains how Espresso supports their teaching and deepens pupil learning.
Hayley McKechnie, Year 6 teacher and Computing Lead at Lee Chapel Primary School in Basildon, Essex, has taught with Discovery Education Espresso News
Higher standards in literacy are at the heart of the National Curriculum. But encouraging a love of reading in the digital age can be a challenge.
Riverview Infants School in Gravesend Kent uses Discovery Education Espresso to engage and inspire younger learners.
At St Martin de Porres teachers pride themselves on creating an environment where every child can flourish and achieve success.
Easy to access and simple to use, many schools are turning to Augmented Reality as part of a broad and balanced curriculum.
Sign up for latest updates