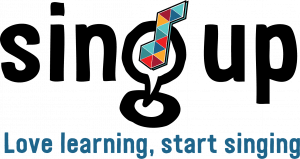 Sing Up at Home
Sing along – at home, at school, wherever you are
Sing Up has launched Sing Up at Home, a brand new area of the site with songs and resources that are freely available for pupils and parents to use at home. All around us, the world is changing and we're all adapting to new challenges. With so many children and young people now staying at home, we want to ensure that they are still able to experience the benefits of singing.
For teachers sending home schooling resources to pupils, we've put together lots of activities to make it easier for you to plan for their pupils' home learning. As the songs and resources are available on our site, you can send pupils links directly to our site's pages.
Sing Up at Home has:
Themed playlists of songs to fit every mood – including songs to calm and relax you, songs to get you moving, and empowering songs to lift you up
Songs and activities for learning about topics
A new Song of the week every week which will feature an engaging teaching video and audio tracks, lyrics, musical score and various activities that go along with it
For those running virtual choirs, we have compiled a range of warm-ups, unison songs, and songs in parts, complete with performance, backing, and rehearsal tracks.
We will continue to add resources to Sing Up at Home so link to www.singup.org/singupathome on your own school website or VLE so that pupils can access them themselves wherever they are. In these difficult times when we may be feeling more stressed and disconnected from each other, singing helps to bring us together as well as ease tension and lift spirits. Whether incorporated as part of learning or simply to let off steam, we could all benefit from a little singing.
Trial Options

All Sing Up at Home resources are free to use.
Sign up for latest updates
The EDUCATE programme is a research-focused accelerator that bridges the gaps between EdTech designers + developers… https://t.co/dwH5Z8JdR8
LearnED Roadshow 2022-23 is coming to Leeds, Norwich, Rugby, London, Exeter & Newcastle. Find out how you can suppo… https://t.co/1R3cnsaqIk