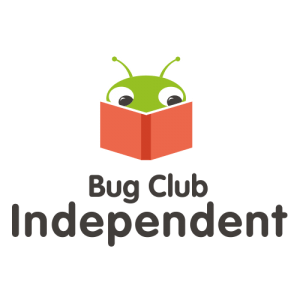 Bug Club Independent
Pearson
Ignite your children's love of reading and grow their skills
What is it?
An engaging and imaginative independent reading solution for your whole school.
Shown by an independent study* to:
encourage reluctant readers to read at home using the online reading world

increase reading enjoyment

develop skills, helping children make 30 months of reading progress in 18 months
What's in it?
Bug Club Independent Reading combines over 400 beautiful eBooks and print books with characters your children love, from Sarah and Duck to The Doctor and friends.
It also includes:
trackable, embedded activities in every eBook

inside cover notes in each printed book to help you and your children's parents know how to deepen understanding

Professional Development courses which ensure you get the most from your Bug Club package
How it works
Bug Club offers your children books and eBooks that they would choose themselves.
An independent study* has shown reading from home is greatly encouraged by the brilliant online reading world, and you're equipped with tools to help plan and monitor progress.
Costs

£349 per annum
Bug Club is packaged to for you. You can choose any combination of package to suit your needs – entirely print, entirely online, or a combination of the two to suit you.
Bug Club Independent starts at £349 for an online KS2 subscription, to £1,699 for a whole school print solution.
Bug Club books are varied, motivating and have great 'pick up appeal' for children.
Children from less wealthy backgrounds had access to a library of books previously inaccessible to them.
Q

Can I buy print and digital combined?

A

Yes, you can buy any combination of print and digital package to suit your school. That means you could purchase a KS1 Starter Independent package in print, and a KS2 Pro Independent package as a digital subscription, if it suited your needs. You could even purchase both a print and digital version of the KS1 Starter Independent package if it worked for you.

Q

I don't want to commit to an entire package, can I buy single books?

A

Yes, you can buy as many single books (or multi-book packs) as you need.

Q

Can I get a discount on my Bug Club purchase?

A

All Bug Club packages, from the smallest to the largest, come with built-in discounts. You can save up to 29% when you buy a print package from us.
Sign up for latest updates
This is an appeal for help. A request has reached us from a school in Romania who are supporting displaced… https://t.co/h7aR08Wryj