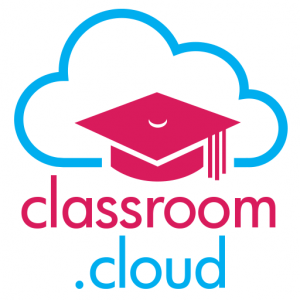 classroom.cloud – School and Remote Teaching and Learning
Netsupport
Cloud-based classroom management, teaching and online safety platform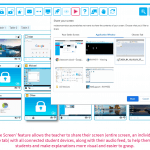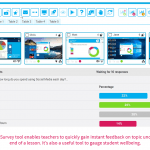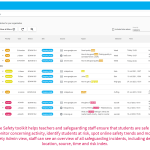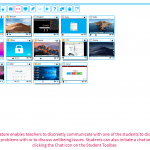 Award-winning cloud-based, teaching, classroom management and online safety platform for schools!
· More student device controls including remote control, with new hardware and software inventories
· Extra online safety tools, including online support resources
· New feature shortcuts
· New integration with MYCONCERN and CPOMS
· New Student app for iOS
Super easy to set up and use, classroom.cloud is a low-cost and scalable cloud-based teaching, classroom management, and online safety solution, providing the essential tools for supporting classroom and remote learners.
Teachers can easily connect to their students' devices quickly and easily by a range of methods and see thumbnails of all connected students' devices on their screen to monitor activity. With classroom.cloud, teachers can easily explain and demonstrate lesson activity using the screen sharing and audio broadcast features – plus remedy any unwanted activity with remote control tools or by simply locking the students' screens. Keeping students focused and on track is easy with 'allowed' and 'restricted' lists of websites and applications – as well as chat and messaging tools for interaction, guidance and collaboration.
Using class surveys, teachers gain instant feedback on topic understanding and can gamify assessment by using the 'random select' mode which selects students at random to answer the question. In addition, to reinforce good behavior, correct answers, and celebrate great pieces of work, teachers can assign 'rewards' during the lesson.  Any students who find themselves struggling with a task can send discreet help requests directly to the teacher.
In addition, schools can ensure that their students are safe at all times (and in any location) with the online safety toolkit. This helps to keep the school's online environment protected by monitoring concerning activity, identifying students at risk, and spotting online safety trends – even in Microsoft Teams. Its range of proactive and reactive tools include multi-language keyword and phrase monitoring, word cloud of trending topics, contextual intelligence-based Risk Index, and more.
With no swapping between solutions required for in-school and/or remote learning, classroom.cloud provides a simple and effective way to provide continuity for students and reduce edtech fatigue for teachers.
For technicians, classroom.cloud is easy to set up, configure, manage, and use – virtually taking care of itself! Integrating directly with the school's existing infrastructure and with Google Classroom, ClassLink and Microsoft School Data Sync, they can deploy it in minutes and manage teacher and student devices centrally – saving a bunch of time. Plus, they can see at a glance how the school's technology is being used and how to maximise it with the hardware and software inventories.
Costs

£2.5 per licence
With one fixed price per device (£2.50), per year, and absolutely no hidden costs or sneaky extra charges, it's a no-brainer!
Trial Options

30 days
As schools prepare for the new academic term, NetSupport is offering schools the chance to try classroom.cloud free for 30 days, to help schools ensure it's the right fit for them.
Q

How is classroom.cloud licensed?

A

classroom.cloud uses an annual subscription licensing model and is based on the number of student devices you want to monitor, have installed the student component onto and have moved out of the unassigned devices group to make them available in classes.

Q

Can I manage different OS device types from the Teacher Console at the same time?

A

Yes, classroom.cloud currently provides Student installers for Windows and Chromebooks, Mac, Android, and iOS.

Q

How do I stop a student device from being connected to when not at school?

A

Privacy and security is of course key, and with classroom.cloud you can specify Privacy Settings to ensure the student devices can only be connected to during approved school hours and during term time. You can even add the school network and Wi-Fi details to prevent any unauthorized connections.
Sign up for latest updates
Attending overseas trade shows can help you + your business to break into new markets, make new contacts + grow you… https://t.co/c1VLj89a4f
Applications for the Female Edtech Fellowship are open! Apply until July 1st to the most useful programme for… https://t.co/srJHzuZ4Iv