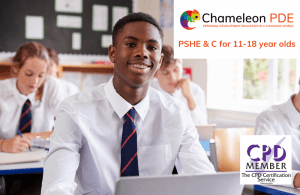 Chameleon PDE PSHE & C for 11-18
PSHE and Citizenship for 11 -18 year olds
We develop flexible, up-to-date, fully-editable resources providing teachers with a wealth of material to meet statutory requirements and more.
Chameleon PDE's Resources offer you:
Continuously updated materials to reflect the fast-changing world, latest trends and major national and world events that impact on the lives of your students.
Fully-editable lessons for you to download, each lesson consisting of at least 120 minutes of material for you to choose from and adapt as you wish.
Support materials to cover, assessment and progress, optional homework, home-learning activities and signposting to national support agencies suitable for young adults.
Regular updates on government policy, lesson updates, templates,  top tips, blogs and much more.
Costs

£199 per annum
We offer flexible purchasing options and you don't need to buy the whole programme.
Prices start from £199 plus VAT per Key Stage (11-14, 14-16,16-18).
Thematic purchasing options are also planned.
There are no tie-ins and schools/colleges can unsubscribe and keep what they have downloaded at any time.
Trial Options

Free samples available on our website
Why not try before you buy?
Sign up for a free no obligation account on our website www.chameleonpde.com to download a range of free sample materials and guidance documents.
Sign up for latest updates
Understand how to research new markets and where the current hotspots are with this in-depth workshop, part of the… https://t.co/nhrOETegnT